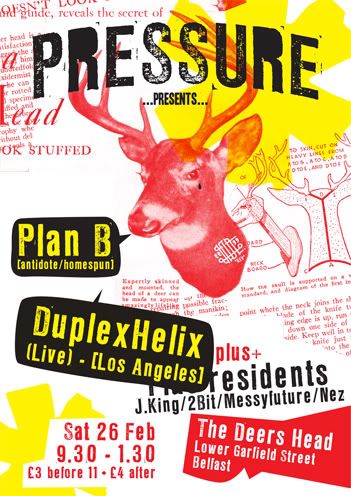 Pressure are proud to present Plan B & Duplexhelix (Live set) + Noize Thievery (EP Launch). We're going all hip hop for this one!!
Plan B : Homespun / Antidote Portrush resident aka dj HamsterStyles aka DaddyLongLegs aka 6amAtlanticWallClimber.
(to be clear, this is not the bloke with the guitar from London…)
…Duplexhelix : Mexican expatriate, illegal California resident and recent Northern Ireland transplant. duplexhelix brings the Noise (literally) to the N&B and to the N-Hop. Added the swagger to the wonk for that Swonk. After dabbling many years as a Classical concert soloist, Jazz side-man, experimental instrumentalist, wedding band player, and diletante academic, he has finally embraced the four-on-the-floor and gave it the Swonk treatment.
Noize Thievery :
Sample Based Beat Maker from Belfast.
Promoting his debut EP Beyond The Interface Vol.1
(due to be released end of Feb/start of March 2011)
http://soundcloud.com/sbaine213
Plus Pressure residents J.King/2Bit/Messyfuture/Nez
Saturday 26th February
£3 Before 11pm, £4 after
Doors 9.30pm – 1.30am